Celebrate your mom or other mother figure in your life with a special gift made just for here. Here we're featuring two different apparel designs that are perfect for moms to wear on Mother's Day or any day.
This flattering t-shirt has a simple design that spells out MOTHER using actual elements from the periodic table. Each element is included with its two-letter symbol, full name, and atomic number. Under each square is a funny slogan related to the element that can also relate to mom: Molybdenum has a "high melting point"; Thorium is "radio active"; and Erbium is "bright, shiny, and stable". This simple monotone design looks great on the grey shirt as shown, or pick a flattering color like light blue or pink.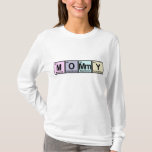 This funny design is inspired by the familiar "made of elements" style, but it uses imaginary elements to spell out the word MOMMY. The design is done is whimsical pastel tones and includes the following elements: Maternal (M); Overprotective (O); Magnificent (Mm); and You're the Best (Y). This unique Mommy T-Shirt is a cute gift idea for Mother's Day!