Celebrate your dad or other father figure in your life with a special gift made for for him! Here we've featured two different apparel designs that are perfect for dads to wear on Father's Day or any day! These are especially perfect for dads who are interested in or work in chemistry or science!
Reminder: we will celebrate Father's Day on June 20, 2021.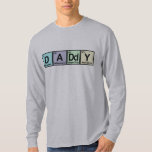 This funny design is inspired by the familiar "made of elements" style, but it uses imaginary elements to spell out the word DADDY. The design is done in whimsical light blue, green, and yellow tones and includes the following elements: Discipline (D); Adventure (A); Diaper Duty (Dd); and Yard Work (Y). This unique Daddy T-Shirt is a cute gift idea for Father's Day!
This cute chemistry-inspired t-shirt for dads spells out the word FATHER using actual elements from the periodic table. The block-style design has the caption: an essential element. Get this in Forest Green as shown, or pick from 20 different colors to pick your dad's favorite! Shirts are 100% cotton or a comfortable cotton blend.